When the History Group recently published 'Nether Edge in the Second World War' we expected, and hoped, that in bringing the story to the general public new information, new stories, new images would come to light. Our suspicion was that, despite the passage of time, there is much information, still undiscovered, that would add to the story. And indeed several people have already contacted us with new tales to tell, stories we hope to pursue once things settle down.
One part of the story in particular was missing… a comprehensive record of the people of Nether Edge who served and, in some cases, died in the War. For all our efforts, all our appeals, we unearthed very few names, no official lists, no memorials. Nothing to match the memorial tablet to the fallen of the First World War which is now displayed in Shirley House. A rough estimate suggested to us that in an area the size of Nether Edge there must have been hundreds serving and scores killed, yet by the time the book went to press we had only found the names of just over 30 people who served and the names of 5 who died, all stories which are in the book.
Enter Danny O'Keefe, the hero of this particular story. Years ago Danny was called to investigate a water leak in the grounds of Abbeydale School shortly after it was closed. Leaning against a wall, ready to be discarded, was a grubby Memorial Board.
One name stood out. George Portas. The name of Danny's wife's brother. Intrigued Danny read the wording :
Nether Edge Grammar School
To the Glory of God and in Sacred Memory of Old Boys of this School who
Gave their Lives for their Country in the World War 1939 – 1945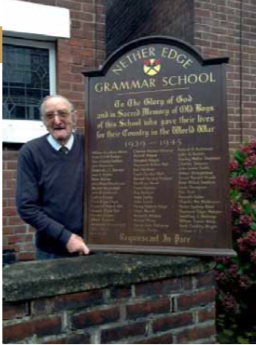 He read also the 54 other names of those from the Grammar School who had given their lives in the War, three long columns starting with William Atkins and finishing with William Weaver. Not knowing what to do with it, but reluctant to see it thrown away, Danny took it home and stored it behind a wardrobe. There it stayed until years later, and only weeks ago, Danny saw the Sheffield Star article reviewing the book and got in touch. The Board is now in the possession of the Nether Edge History Group waiting a decision on how it can best be protected and stored…or displayed. At this time of remembrance it seems particularly poignant that the names of so many of those from Nether Edge who gave their lives have disappeared. Our aim, in the New Year, is to research the names on the Board and renew our attempts to identify all those who served and /or died and whose names must be out there somewhere. Do you know of any ? Did your father, mother, grandparent leave Nether Edge to serve ? Are they one of those whose names have disappeared from recorded history ? Don't they deserve to be recognised ?