by Pril Rishbeth, first published in 2014
Near the Psalter Lane ridge of Nether Edge, half hidden behind a wall and fine trees, lies Shirle Hill house. This building, recognised by the architectural historian, Pevsner, has a fascinating history involving a Mayor, a Prime Minister, war refugees and the Sheffield Health Authority.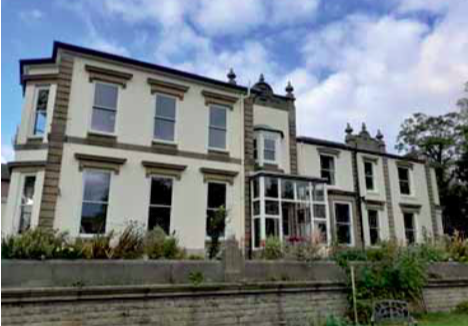 Two driveways face each other diagonally at the crossroads of Cherry Tree Road with Kenwood Road and St Andrew's Road. Back in the 1840s and 50s John Brown from Shirle Hill and George Wostenholm from Kenwood could have met as they drove their carriages in and out of their homes. John Brown provided land for the building of St Andrew's Church (now demolished) and hence the naming of St Andrew's Road, while George Wostenholm, having called his house Kenwood, gave that road its name.
Further back in 1809, when the original Shirle Hill was built on Cherry Tree Common, the area was farmland with the homes of farm workers and small scale industrial enterprises and no Kenwood house until 1844.

John Brown moved into Shirle Hill after his marriage in 1839. The house was then a relatively small Georgian home. John Brown had left school at 14 and began work as an apprentice. He soon moved on to have a share in a cutlery business and then set up on his own. When the railway boom came, he invented a steel buffer, a success which led to expansion. His large Atlas Works became famous.

John Brown was twice Mayor of Sheffield and twice Master Cutler. Whilst he was Mayor, he held the first civic banquet in 1862. He invited the Prime Minister, Lord Palmerston,who came and stayed with him at Shirle Hill. Palmerston admired the 'delightful scenery which the Mayor's residence commands' so Brown drove him round Brincliffe Edge and showed him the Botanical Gardens before taking him to see his steelworks.

Palmerston expressed surprise at the enormous extent of the works. He watched steel plates being rolled ready to coat naval ships and the Bessemer converter being used in the process of casting guns, as well as railway springs and buffers being made.

John Brown's success inclined him towards a grander residence, comparable with those of the other Sheffield steel magnates. He had built for himself and his wife the magnificent Endcliffe Hall, off Endcliffe Vale Road, and in 1865 sold Shirle Hill to his managing director, William Bragge. In the sale catalogue, Shirle Hill was said to have 'Pleasure Grounds tastefully laid out and containing the choicest shrubs and evergreens, also potting sheds, a peach house, vinery, pine pits (for cultivating pineapples) and looseboxes for 2 horses'.

William Bragge was responsible for the Shirle Hill we see today. The architects Frith Brothers and Jenkinson added a large Italianate wing and a tower on to the original house, which was re-fronted to match up with the new wing.

The house stopped being a family home when it became a Belgian refugee reception centre in 1914, after the German army had swept though Belgium. Some 90 refugees remained in the house for the duration of the war.

Many of you will remember Shirle Hill as a hospital, when the inside of the house was significantly adapted for its new role. The Health Authority moved out and sold the property in 2012, and the building lay empty. A developer owned it for a while before selling it on to the present owners. Today it is exciting to watch new developments. A co-housing group of Sheffield friends has bought the property and is bringing it back to life. They are keen to repair the house sympathetically whilst making it suitable for separate residential units with some communal areas. Some new housing will be built in the grounds and an unsightly education unit removed.

There are still architectural secrets to uncover. In particular, the Shirle Hill group would love to hear from anyone who knows anything about the Victorian stained glass windows in the modern porch.