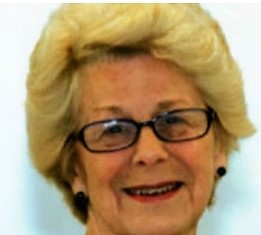 Miss Judy – Constance Grant dance teacher (1937 – 2013) – Chris Venables
Judy Silvester's parents, Constance Grant and her husband Harry Silvester started the Constance Grant Dance Centre on Psalter Lane over 80 years ago. Their daughter, Miss Judy, born in 1937, was a dancer all her life, taught first by her mother, then at the Bush Davies Theatre College in London and the Lehmiski School of Ballet, Birmingham. In 1949, when only 12 years old she was appointed principal dancer at the Tower Ballroom in Blackpool, where she performed for four summer seasons. One of her first jobs at the age of 17 meant taking part in seven different shows a week as a redcoat at Butlin's holiday camp in Filey. On completion of her training, she performed as a dancer and singer in cabaret and professional theatre. In her 20s, with dance partner Paul Beeton, she took the title of British Dance Exhibition Champion for three consecutive years.
Known to everyone as "Miss Judy", she took over the Constance Grant Dance Centre on Psalter Lane from her mother in the 1950s and for the following 50 years she trained thousands of pupils, many of whom went on to become stars in their own right. As the school expanded to nearly 700 pupils, she inspired generations of Sheffield youngsters, from tots to adults, and oversaw their regular shows at Sheffield City Hall as they played to sell-out audiences. Sally Baxendale remembers as a seven-year-old appearing as a penguin in Constance Grant's 1956 show at the Empire Theatre on Charles Street. Both Sally's daughter and granddaughter followed her as Constance Grant pupils. When chair of the Miss Dance of Great Britain organising committee Judy brought the prestigious event to Sheffield where it stayed until it outgrew the City Hall.
Judy was actively involved with local theatre companies including Teacher Operatics, Harlequins, Roses and Denys Edwards Players. But her key role was as director and choreographer of the Croft House Theatre Company, with which she worked for over 50 years. Friends said: "Her commitment and passion were legendary and she became an inspiration to us all… She was able to move with ease from the highest level of professional dance training to gently coaching those less able to deliver a performance, with confidence and aplomb."
As an internationally respected dance teacher she enjoyed her time with the international association and was its president in 1992. Having achieved the highest qualifications in all genres of theatre and ballroom dancing, she coached, examined, directed and choreographed around the world. She died in Cyprus at the age of 75 when working as senior examiner with the International Dance Teachers' Association. Her daughters Karen Siddall and Tracey Southern succeeded her at The Constance Grant Dance Centre. Colleagues said that behind all the glitz and the glamour which was a big part of Judy's life, she was an ordinary fun-loving girl… a good cook and a brilliant host who loved her family and adored her grandchildren.
Sources: https://www.sheffieldtelegraph.co.uk/whats-on/arts/dance-teacher-inspired-hundreds-of-youngsters-1-5838267 dated 9 July 2013.