By Margaret Blenkinsopp
In May 2014 I was invited to Leeds to attend a regional Heritage Open Day meeting. In a coffee break I got chatting to a delegate about the First World War and the Victoria Cross. I live on Psalter Lane and I knew that in Clifford First School there is a memorial to a soldier who had won the VC. The delegate then informed me that as part of the commemoration of the First World War, the Government were laying a paving stone to recognise the bravery of all who were awarded a VC. This got me interested and I found that the memorial in Clifford First School was for Arnold Loosemore. It had once hung in St Andrews Church, but after its demolition it was given to the School. The School are very proud of Arnold Loosemore: they display his photograph and the children commemorate his achievement and remember him every year.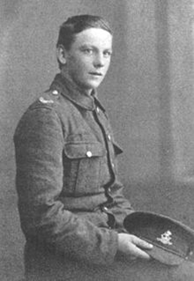 I decided to research the story behind Arnold Loosemore, who
was born on the 7th June 1896 at 3 Dyson Lane [now a new development of shops, cafes and housing called Dyson Place]. He was one of eight children and like his siblings he attended Clifford C of E School. After leaving school he was, according to census records, a cowboy; then he became a labourer for a farmer at Whitely Woods. He was living at 1 Lescar Lane [near the Lescar pub] when he enlisted in January 1915 aged 19 years and 7 months.
He joined the York and Lancaster Regiment and was posted to Gallipoli. He survived this campaign and on his return to England was trained as a machine gunner to operate the new Lewis Gun. In 1916 Arnold Loosemore was then sent to the Somme to join the 8th Battalion Duke of Wellington (West Riding Regiment).
Arnold Loosemore won the VC on the 11th Aug 1917 at Langemarck, Belgium. His citation reads "For most conspicuous bravery and initiative during the attack on a strongly-held enemy position. His platoon having been checked by heavy machine gun fire, he crawled through partially cut wire, dragging his Lewis gun with him, and single-handed dealt with a strong party of the enemy, killing about twenty of them, and thus covering the consolidation of the position taken up by his platoon. Immediately afterwards his Lewis gun was blown up by a bomb, and three enemy rushed for him, but he shot them all with his revolver. Later, he shot several enemy snipers, exposing himself to heavy fire each time. On returning to the original post he also brought back a wounded comrade under heavy fire at the risk of his life. He displayed throughout an utter disregard of danger."
This act of bravery led to the award of the VC and promotion to Corporal.
He was presented with the VC by George V at Buckingham Palace in Jan 1918 and by May he was promoted to Sergeant
Arnold was also awarded the DCM [Distinguished Conduct Medal] on the 19th June 1918.
On 13th Oct 1918, 23 days before the Armitice, he was wounded at Villers-en-Cauchies in France both legs were damaged and he needed his left leg amputated. After treatment for his injuries Arnold was discharged in May 1920.
He returned to Sheffield and married his childhood sweetheart Amy Morton at St Andrews Church. They moved to Stannington and the following year had a son, also called Arnold.
Despite being disabled and unwell, Arnold took up poultry farming but found climbing the stairs to his house exhausting. In 1923 the Rotary Club provided a wooden hut as a home. After his death the hut was dismantled and erected at the Rotary Club Centre at Castleton, where it is still used to provide holiday accommodation. Children from Clifford School have stayed in Arnold's hut!
Due to ill health and war wounds Arnold died of TB at his home on the 10th April 1924. His funeral was watched by thousands of people who lined the route. His widow was refused a war widows pension because she had married Arnold after the war, knowing of his ill health. To add insult to injury his widow received the bill for his military funeral from the City Council.
Arnold Loosemore is buried in a shared grave at All Saints Churchyard Ecclesall.
Arnold Loosemore is the only Sheffield man who was born and died in the City to be awarded the VC. There is a road [Loosemore Drive, S12] named after him. On the 11th of August 2017 100 years after winning his VC a Commemorative Paving Stone was unveiled at the City War Memorial in Barkers Pool. It is a moving story about a man who lived in our area.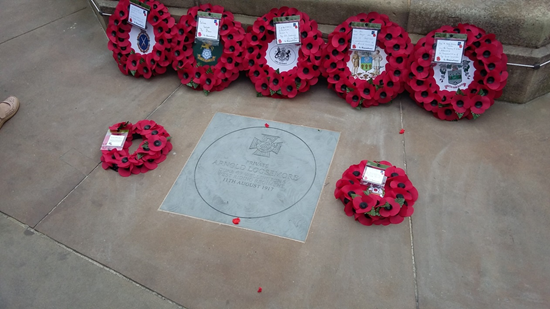 References:
1. www.chrishobbs.com
2. www.loosemore.group.shef.ac.uk